A home built-in sauna is the must have this year. 
We have a great relationship with a team of local master builders and utilise their skills for clients wishing to have a luxury sauna built inside their house. 
Our team works strictly to the building code, can assist with all stages of the planning and build of your dream home sauna. We don't offer corner cutting or even the cheapest price, instead focusing on a healthy sauna done right. 
We can accept work from clients who already have building consent and plans in place, or start the process from scratch with our recommended architect, working with them to get the sauna through the consenting process. 
As a rough guide to costs involved. 
If building consent is required: Architect – full design and putting plans through council ($250 per hour, plus any applicable council fees). 
If building consent in place or not required: Builder and Sauna advisor site visit $450 (refundable if we build the sauna). There is a 2 week lead time on this process. Room/heater plans can be produced and a quote provided at this point. 
Sauna room:  Assumes no changes to outer building envelope and a maximum 2.3 meter stud height. 
Starting from exposed vertical framing already in situ. Includes specialist wool insulation, vapour permeable/waterproof rigid air barrier, flashings, tanking, floor leveling compound, tiling laid (client provides own 600mmx600mm or 450mmx450mm tiles), 10mm safety glass door with self closing hydraulic hinges, cavity battens, vents, western red cedar tongue and groove wall/ceiling linings and bench seats. We use low VOC building materials specific to sauna and stainless steel fastenings. 
Prices from:
$5000 per square meter based on a single bench seat with face trim, in an L shape.
$5400 per square meter based on a two tiered bench seat with face trim, in an L shape.
$5100 per square meter based on a single floating bench seat (hidden steel support), in an L shape.
$5500 per square meter based on a two tiered floating bench seat (hidden steel support), in an L shape.
Based on client providing own 600mm x 600mm or 450mm x 450mm tiles. We can quote on a wooden floor if required. Note that building prices are excluding GST.
Other lining timbers available – Alaskan Yellow Cedar, Tulipwood, Thermally modified NZ Pine and Thermally modified Hemlock (costs will vary). 
Heater, lighting and electrical work additional to above costs. 
Wastepipe/plumbing if required additional to above costs. 
All construction is covered by the Master builders guarantee. 
Huum heaters are covered by a 5 year warranty. 
The above prices are based on servicing Christchurch city, Tai Tapu in the Southwest, Rolleston in the West and Kaipoi in the North. Travel fees apply outside of these areas.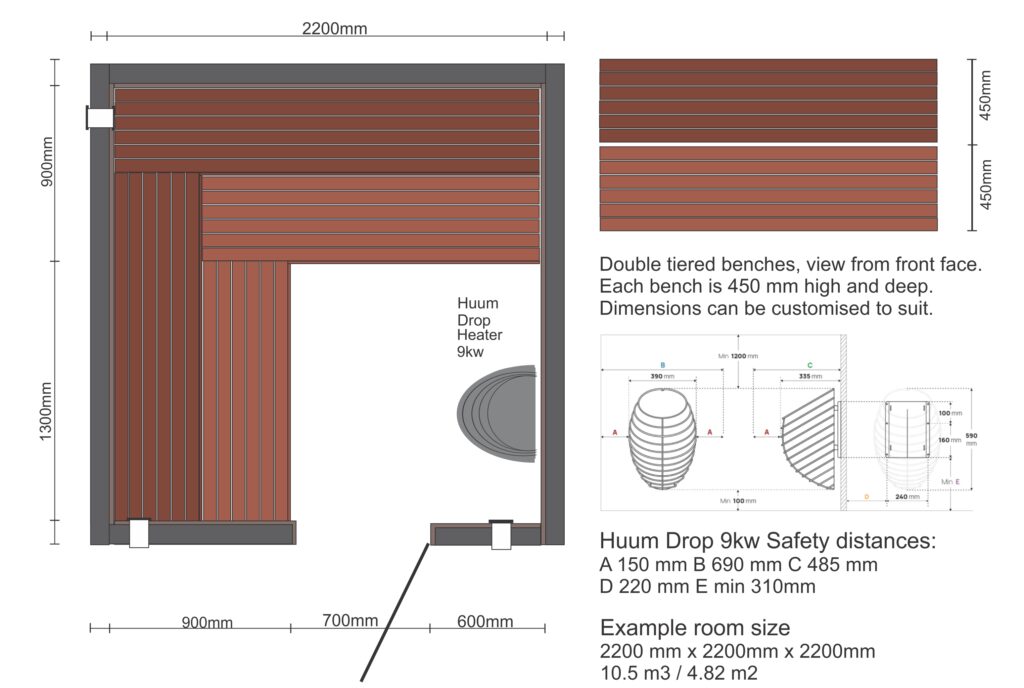 The example sauna room above is 2.2 meters x 2.2 meters x 2.2 meters, totaling 4.82m2. It features a two tiered L shaped bench with wooden trim facings and a 9kw Huum drop heater with classic controls. 
The approximate cost of materials and building is $26,028 (plus GST) with an additional $4295 for the heater. This doesn't include any potential council costs, architect, plumbing, wiring, lighting and assumes client provides their own tiles.