Let us take the strain
All our sauna come as kitset and can be put together by competent people following our instructions and video. However, we recommend that Canterbury Saunas take away the hassle by delivering and building your barrel. Defective self assembly will affect your warranty and consumer rights.
Our delivery fees:
Christchurch area – Free
South Island – $600
Lower North Island – $1200
Upper North Island – $1900
Please note: these prices are based on kerbside or easily accessible sections.
Assembly guidelines
Your ground needs to be prepared with either 3 rows of 3 paving stones (50cmx50cm), concrete pad or re-enforced deck before we deliver and assemble. It is not advisable to locate the sauna directly onto bare ground or grass. 
If located in a high wind area or sloping terrain, it is recommended to use Ground screws. A Swedish product for siting decks, fences and portable buildings, without the need for concrete, creating less mess and much quicker to install compared to standard piles. 
ST ALBANS SAUNA – FEET OUTLINE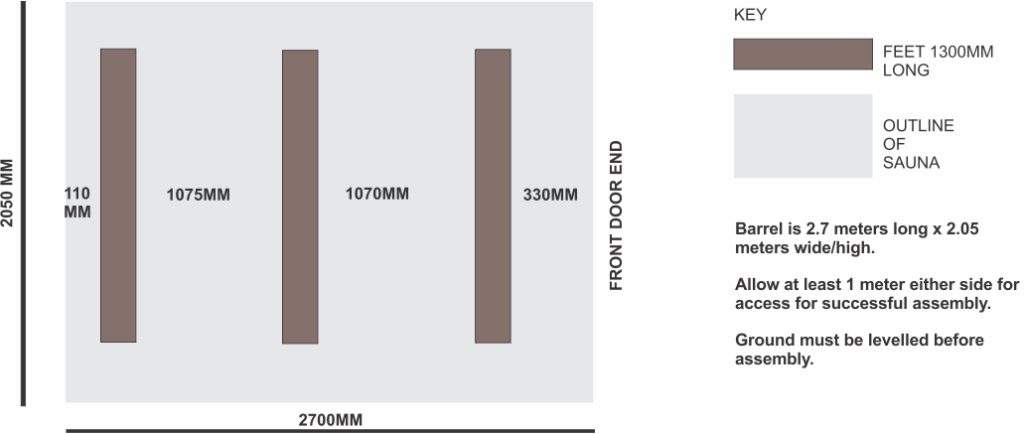 Our current assembly prices for the South Island is $1300, please Contact Us us for the North Island.
We will build the sauna, apply one layer of oil and mount the heater. The LED lights are already mounted under the benches and are an easy connection for an electrician . The client is responsible for appointing an electrician to connect the heater and lights, to the homes power supply.
We can recommend a Christchurch based electrician. Connection prices will differ dependent on your house/fuse board etc/heater size etc.
Heaters and lighting must be fitted by a NZ Certified electrician.