Description
An investment in relaxation and solitude for tired or stressed bodies. 
Ease aches and pains away in your own sanctuary of solitude and rejuvenation. The New Zealand made 'Tartu' Sauna Cabin is a sanctuary of calm and inner peace and offers what your body needs after a hard days work.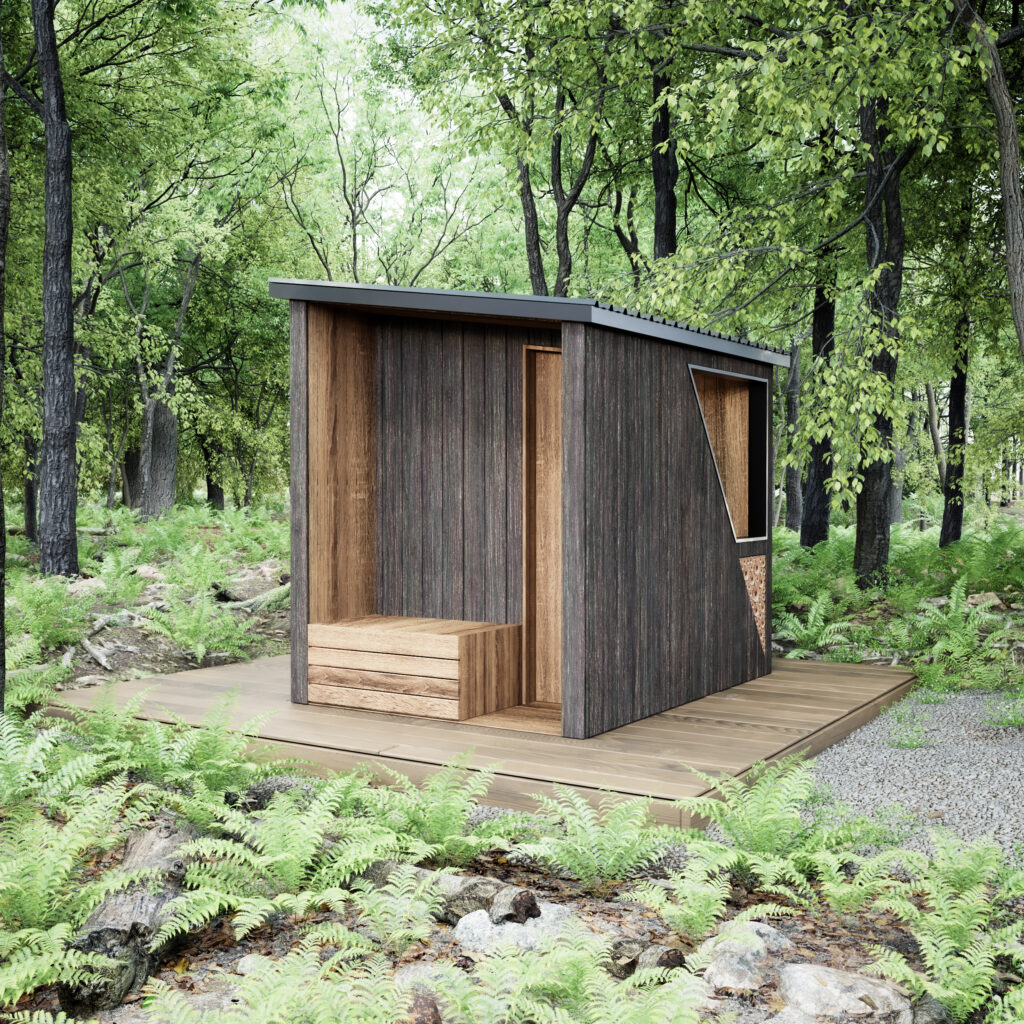 The Tartu Sauna Cabin will compliment any New Zealand garden and offer years of enjoyment. Crafted from New Zealand grown thermally modified timber (TMT) with Terra Lana wool blend insulation for a superior, natural experience. The sauna has been designed with energy efficiency, healthy and sustainable materials in mind. Added to this we use Foreverbreathe™ exterior timber oils and paint from the Natural Paint Co.
The ultimate in relaxation, this stylish cabin is quick to heat up and easy to use – you too deserve this luxury. Splash some water onto the Huum Drop heater for soothing hot steam or add some of our scented sauna oils into the bucket for a more sensory experience!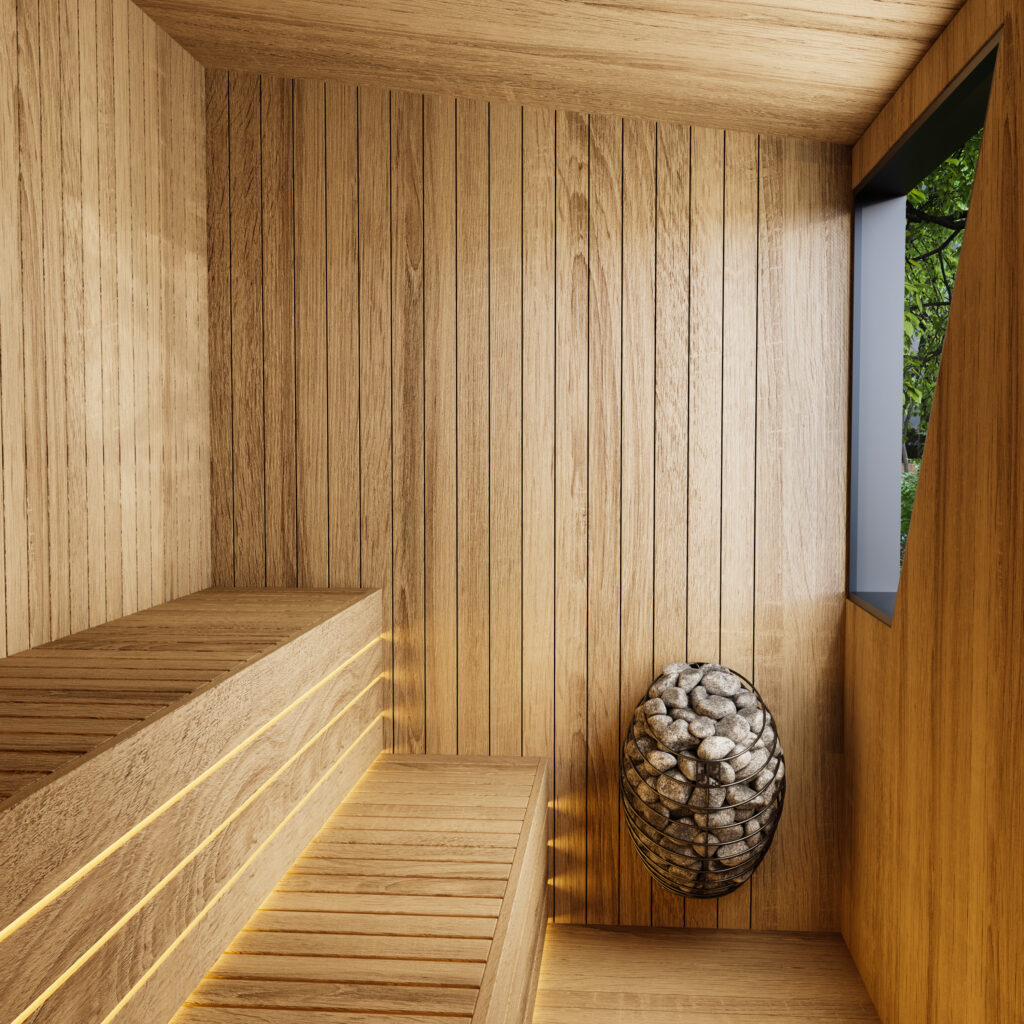 The Tartu Sauna Cabin comfortably seats up to four people across a two tiered bench seat, which gives users choice in their comfort levels. The sauna comes equipped with the award winning Huum Drop 4.5 KW heater, stones, mood enhancing LED lighting, ventilated benching and stylish black bucket and ladle. Interior linings are sustainably sourced dressed tongue and groove TMT, with breathable, vapour permeable Magnum board. Exterior walls are clad with textured TMT with a choice of eight Foreverbreathe™ oil shades.
In between sessions, cool down and relax outside on the outdoor terrace. The sauna also features a lockable safety glass door, outdoor bench seat and no large steps to cause obstructions.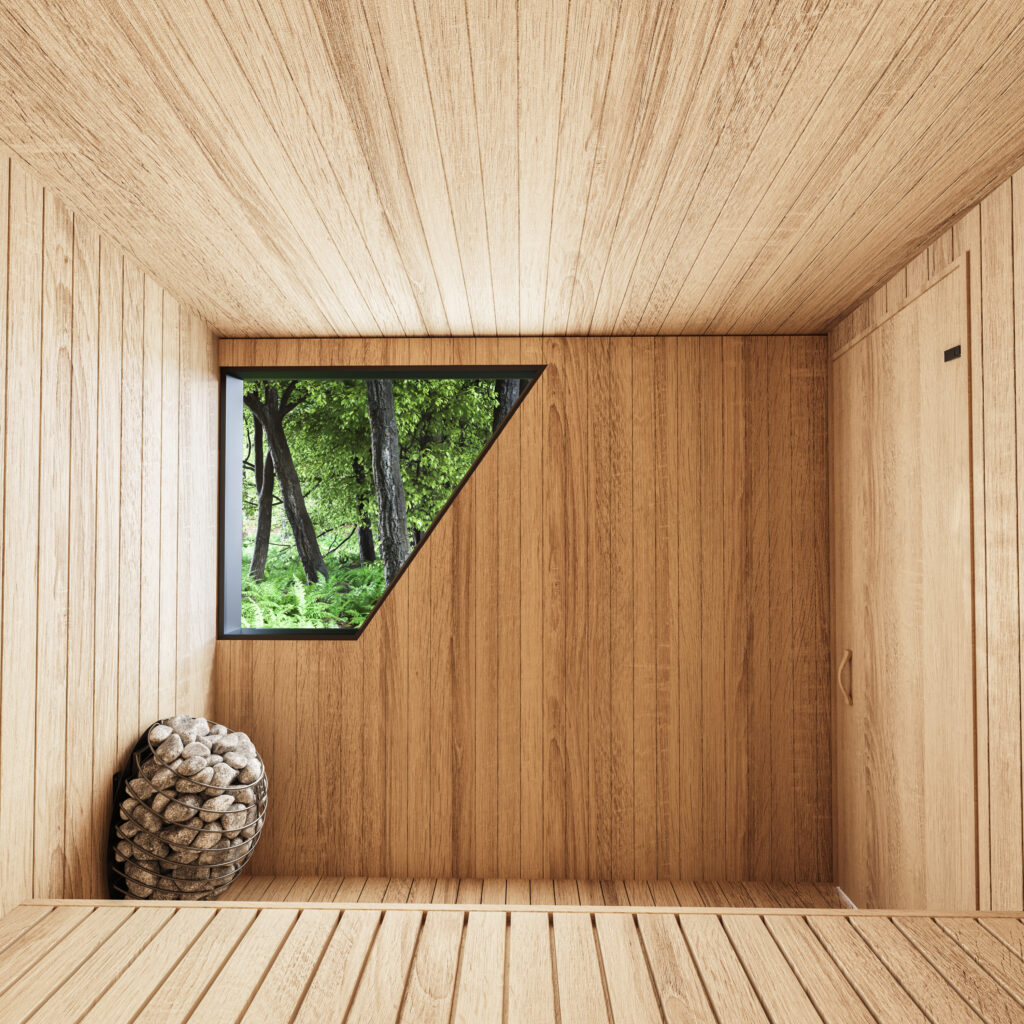 Other great features include a level ventilated false floor and stylish facing trim on the bench seats. Essential ventilation to ensure safe usage and a good internal environment is provided through an intake air vent, waste air vent and adjustable exhaust vent. The cabin is protected with a black five rib steel roof, with matching flashings.
Regardless of rain or shine, hail or snow, relaxing in the The Tartu Sauna Cabin is an all year round activity. The temperature inside is set to exactly what the user chooses, guesswork is removed by the digital UKU classic control panel. Through smart design and materials The Tartu will offer superior levels of comfort.
This sauna cabin comes almost ready to go, as we have done the hard work. The Tartu comes fully built, includes a Huum Drop pre-wired in, along with the temperature probe, UKU control panel and LED lighting. An external power isolator outlet, allows your electrician to easily connect the cabin to your properties power supply. Sitting on three ground contact rated bearers, the cabin is ideally placed onto a solid foundation – we recommend Ground screws . We have a close relationship with Stopdigging NZ, who can install Codemark approved Ground screws at your location and secure the sauna to them.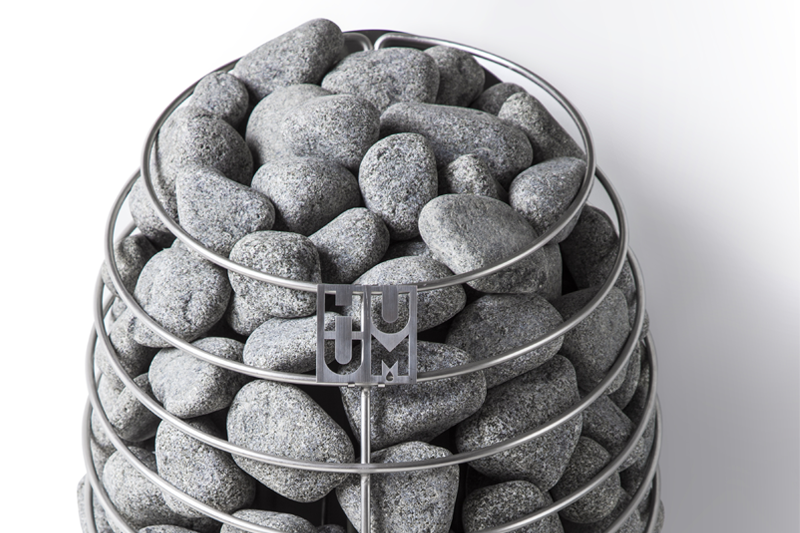 For a more rustic experience, we can offer a wood burning heater instead of the Huum Drop heater as an upgrade option. We recommend pairing this with 'The Helsinki' Sauna Cabin option, as it is slightly larger internally, which matches the wood burners heat output. 
Our Saunas are proudly crafted here in New Zealand and paired with the finest European made heater brand, we have ever used. Our team visited Estonia, Finland and Sweden to seek out the best products, know-how and functionality – we understand Sauna and aren't simply selling a container load of a product we know little about.
The Tartu Sauna Cabin has been designed for 2-4 people. By keeping the cabin to a proportionate size, using wool blend insulation and thermally modified timber, allows for a heater with a smaller power requirement. Larger heaters can require up to 37.5 amps, which can be difficult for some properties with a restriction on available amperage. The 4.5kw Huum drop heater only requires around 18 amps, which makes it a viable option for most NZ homes. The quirky shaped window has been kept to a minimal size, again, as a larger glass surface requires a heater bigger output.

The Tartu Sauna Cabin comes with peace of mind. We offer a 5 year guarantee on the electric heater unit and 5 years on the cabin structure (subject to residential use, correct installation of foundation and maintenance schedule is adhered to).
Specifications
Exterior Dimensions – 2500mm x 1900mm x 2390mm.(plus ground screw foundation) Room Dimensions – 1750mm x 1750mm x 2000mm (dropping to 1800mm at lowest point of ceiling).
Exterior cladding – TMT NZ Pine shiplap cladding, Brushed finish, (licorice Foreverbreathe™ oil pictured), with Healthbased Building battens onto Magnum board 9mm. Terrace – TMT NZ Pine TG&V dressed finish, natural colour.
8 degree mono pitch roof. Black 5 rib steel roof and flashing.
Aluminum thermally broken window 1200mm x 1000mm. Option to have large rectangular window panel of 1600mm x 1000mm.
Terra Lana – NZ wool blend insulation R2.4 floor, walls and ceiling.
NZ steel framing, dimensionally accurate – engineered to 150kph wind zones.
Internally TMT NZ Pine TG&V dressed finish, natural colour on Health based building battens onto 9mm Magnum board wall lining 9mm (subfloor 18mm Magnum board). False TMT timber floor with underfloor waste water outlet around heater. 1700mm two tier benches at 400mm and 800mm above floor height.
Huum Drop 4.5kw wall mounted heater, with 60kg rounded stones and classic control panel (Black). Under bench LED lighting. (All pre-wired and included certification). 56 series power outlet externally. Allow for a 20amp connection when planning. The cost of the connection from your mains board to the sauna is not included in the cost of the sauna. We will provide the specifications needed for your electrician.
Inlet/exhaust air vent grills. X3 Stainless steel as standard (Copper as custom option).
Sits on 3 2.4m H5 equivilent LML timber bearers. Recommended method of foundation – Groundscrews. The cost of the ground screws foundation is not included in the cost of the sauna. Allow approximately $220 per 1200mm screw, with 9 screws being utilised (This figure may alter with any travel required and ground conditions) .  The sauna front terrace will sit approximately 445mm above the ground once on it's foundations (Assuming flat ground). Allow for this when planning a deck or steps around the structure. The deck in the pictures is not included in the cost of the sauna.
Custom options
Huum Drop heater 6kw, 9kw, Hive 9kw or Huum Heat wood burner.
WI-FI controller.
Copper exterior air vents.
More internal space required/longer benches? – The Helsinki 2300mm x 1700mm internally with same roof profile. This model has no external terrace and features benches of 2250mm long benches.
A larger rectangular window. Tartu 1600mm x 1000mm, or Helsinki 2000mm x 1000mm. This needs to be paired with the larger heaters as above.
The Tartu Sauna Cabin is offered for sale on the South Island only at this stage. We can arrange delivery with a local Hiab delivery firm. We do not offer this product as a kitset as we prefer to control quality standards, from our base in Christchurch. As a guide, hiab delivery to Queenstown or Sounds approximately $2500, Christchurch about $300.
Please allow a 10 week window for a custom order. Contact us for more details. 
Contact us for Huum Drop installation instructions, to assist your electrician with the wiring from your fuse board to meet the Sauna Cabin.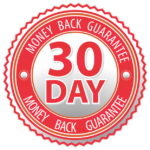 Covered by our 30 day money back guarantee, simply return the item for a full refund.
All Pricing is in New Zealand Dollars and includes GST
Contact us to find out more or arrange a viewing.